YUAN DYNASTY (1279-1368)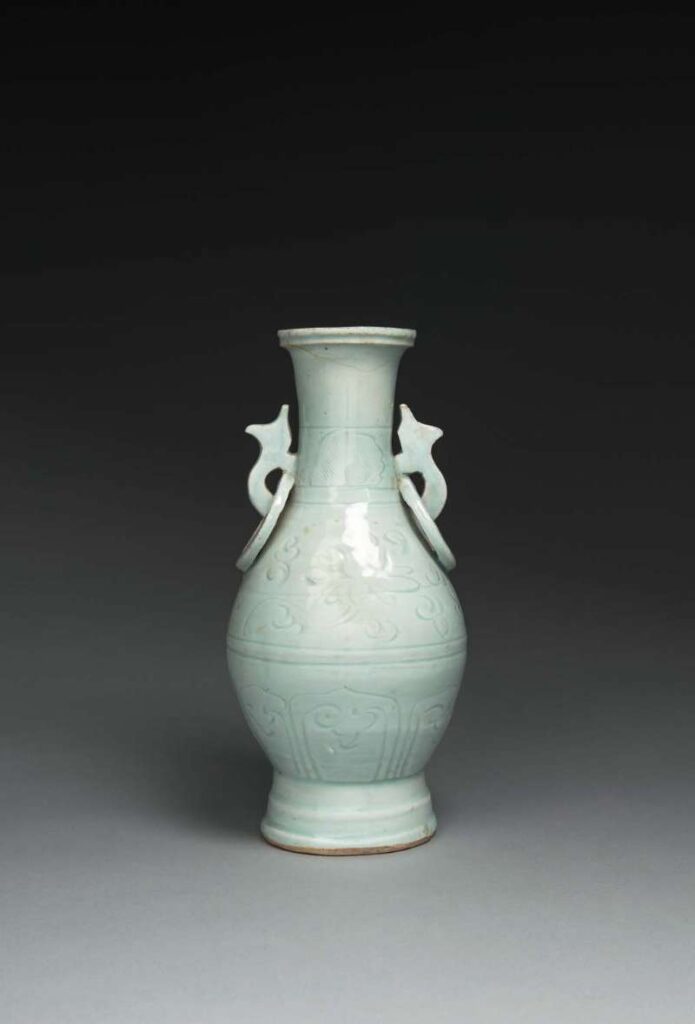 The vase is finely carved with peony blossoms between line borders, above a band of petal lappets and below the neck which is flanked by a pair of flat dragon-form handles with attached rings. The vase is covered overall with a semi-transparent glaze of pale blue tone continuing over the upright rim.
30.5cm. (12 in.) high
The shape of this vase, with flat, simplified, dragon-form handles suspending stationary rings was a popular form in the Yuan dynasty. A very similar vase was excavated from Guixi county, Jiangxi, is now in the Jiangxi provisional museum. Another similar example was included in the memorial exhibition, The Charles B. Hoyt Collection, Museum of Fine Arts, Boston, 1952, no. 381. Two similar vases were sold at Christie's New York, one was from the Falk collection, see Christie's New York, 16/10/2001, lot 124; and other one see Christie's New York, 21-22/03/2013, lot 1448. Blue and white vases of this shape with flat handles of slightly different shape, also with stationary rings, were also made during the Yuan dynasty. One such vase illustrated in the Catalogue of the International Exhibition of Chinese Art, London, Royal Academy of Arts, 1935-36, no. 1435, is now in the British Museum and illustrated by S.J. Vainker, Chinese Pottery and Porcelain, New York, 1991, p. 138.
PROVENANCE
Mr. and Hon. Mrs. R.C. Bruce
Oriental Ceramic Society, London, 1949, no. 44, p. 78
Doris Patricia Baer (1921-1981), Toorak, Australia
EXHIBITED
London, Oriental Ceramic Society, Song and Yuan Wares: Ding, YIng Qing and Cizhou, London, 1949, no. 44
LITERATURE
Oriental Ceramic Society, Transactions of The Oriental Ceramic Society: 1949-1950, "Catalogue of An Exhibition of Song and Yuan Wares: Ding, Ying Qing and Cizhou", 1950, London, No. 44, p. 78.  
CONDITION REPORT
The month and the upper section of the neck was broken and restored, otherwise generally in a good condition.